1) Choose a mission
From the Dashboard, click on "Giveaways" on the main menu to open the mission wizard.

Let's choose the "Starter" template to learn how to add and edit actions.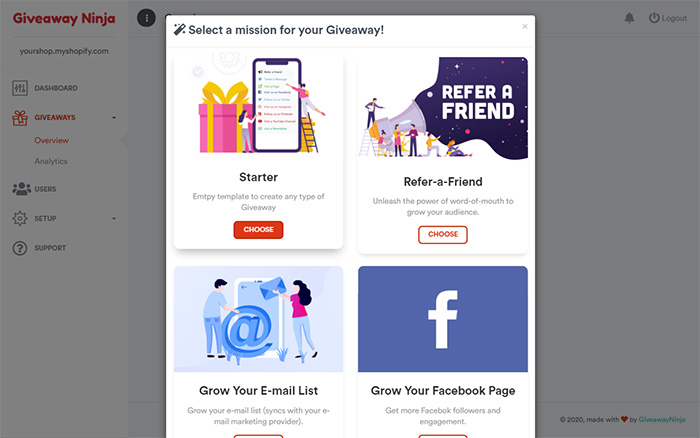 2) Describe your Giveaway
Create a catchy title that reflects your marketing strategy
Enter a quick marketing description and summarize the entry rules
Enter how many users you want to reward (winners)
Pick the Start and End dates (we suggest to run a Giveaway at least for 14 days)
If you have a custom domain (ex. www.shop.com), enter it instead of the default *.myshopify.com URL
Expand the Terms and Privacy section to enter your detailed terms and rules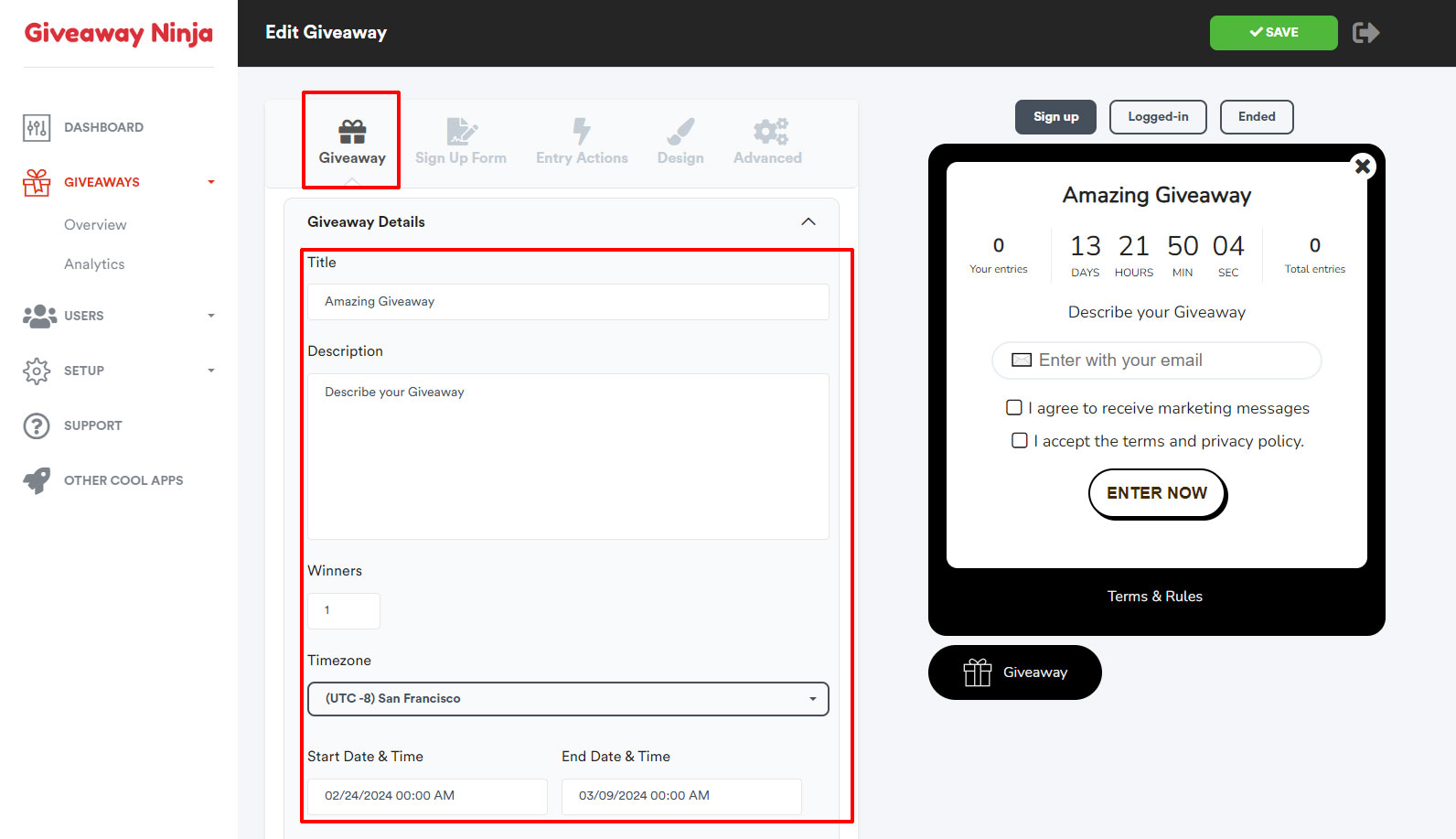 PLEASE NOTE: In most countries, if your company is running a giveaway, contest or sweepstake, you can't ask entrants to purchase something as a means of entry. Make sure to specify on your terms that PURCHASE IS NOT REQUIRED to enter the Giveaway.
3) Add your first Entry Action
Click on the Entry Action tab, then on the icon on the desired entry action.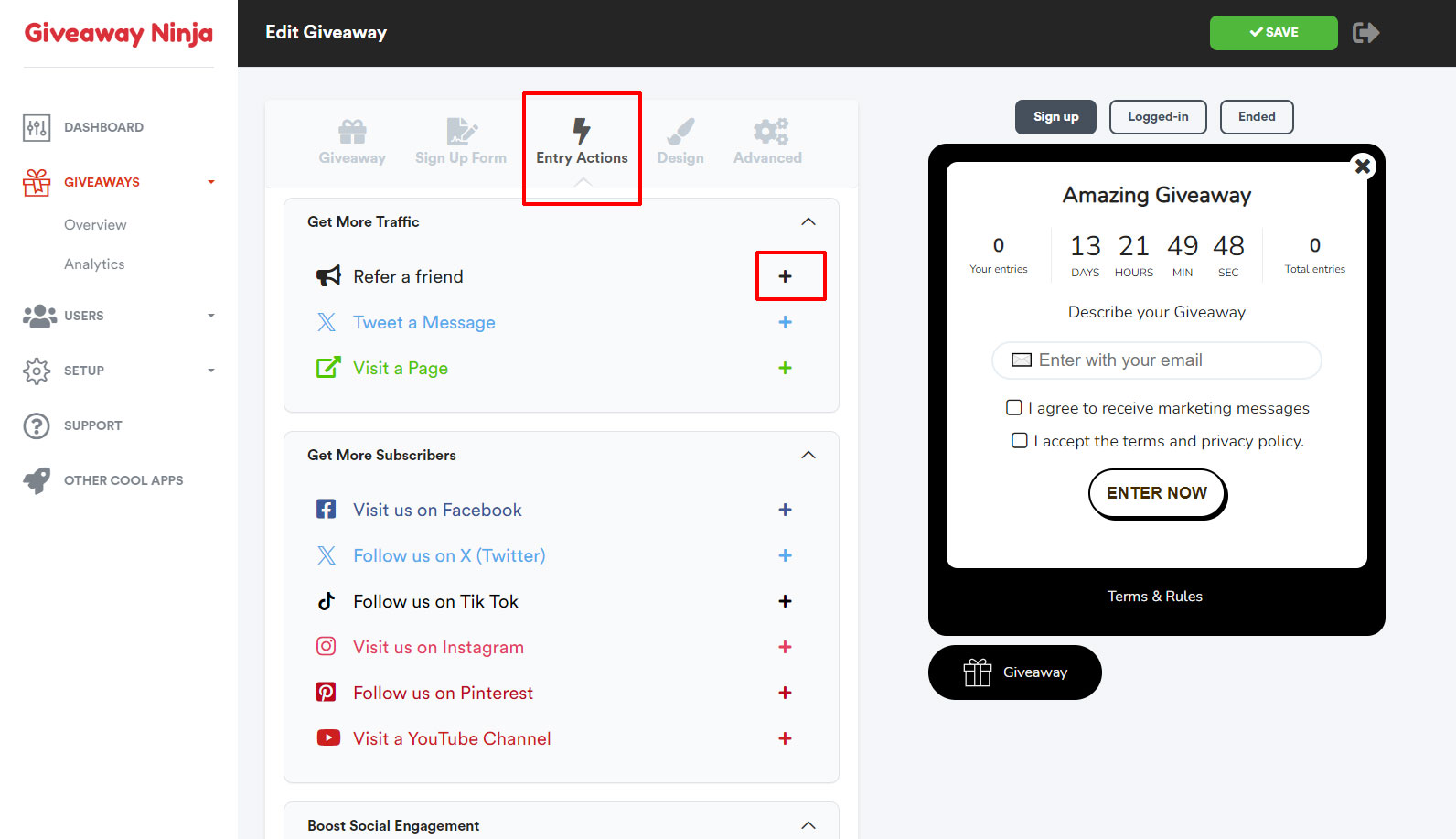 TIP:
Due to the "No Purchase Required" policy, the "Offer an instant deal" action does not assign entries, but you can use this feature to reward users with a discount code as soon as they join the Giveaway.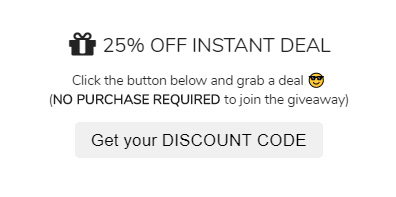 4) Edit an Entry Action
Enter the desired values and click on the small "SAVE" button when done.
Repeat point 3) to add all the desired entry actions.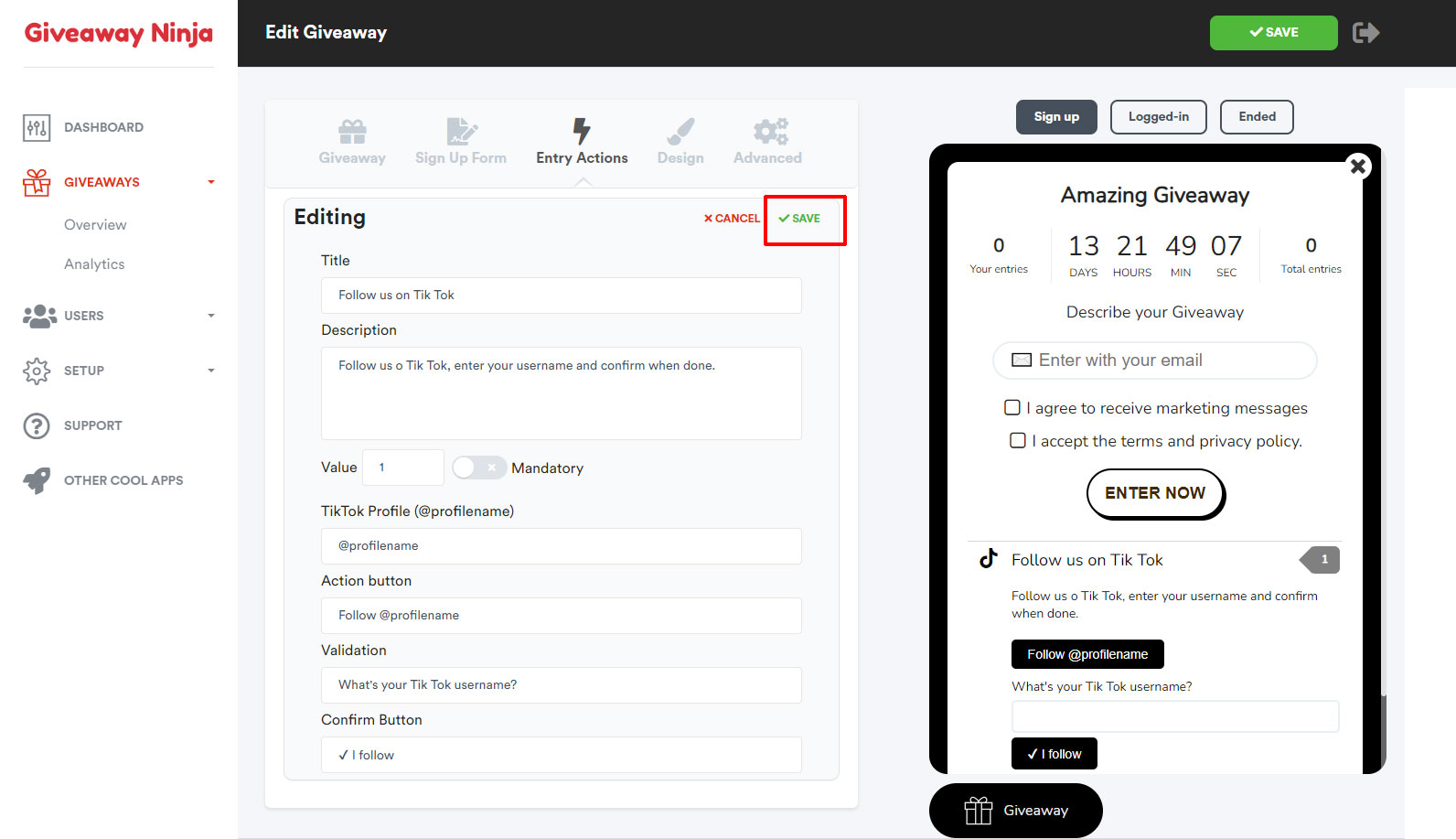 To edit an action, hover on the actions on the preview and click the icon
Click on the icons to move the actions up or down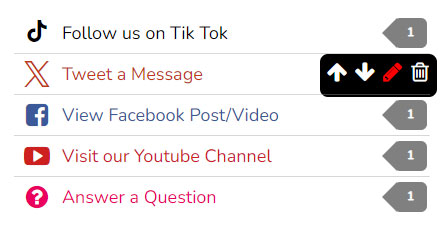 5) Customize your design
Giveaway Ninja provides many customization options: choose your font, change colors and upload up to 3 headers to match your brand's style.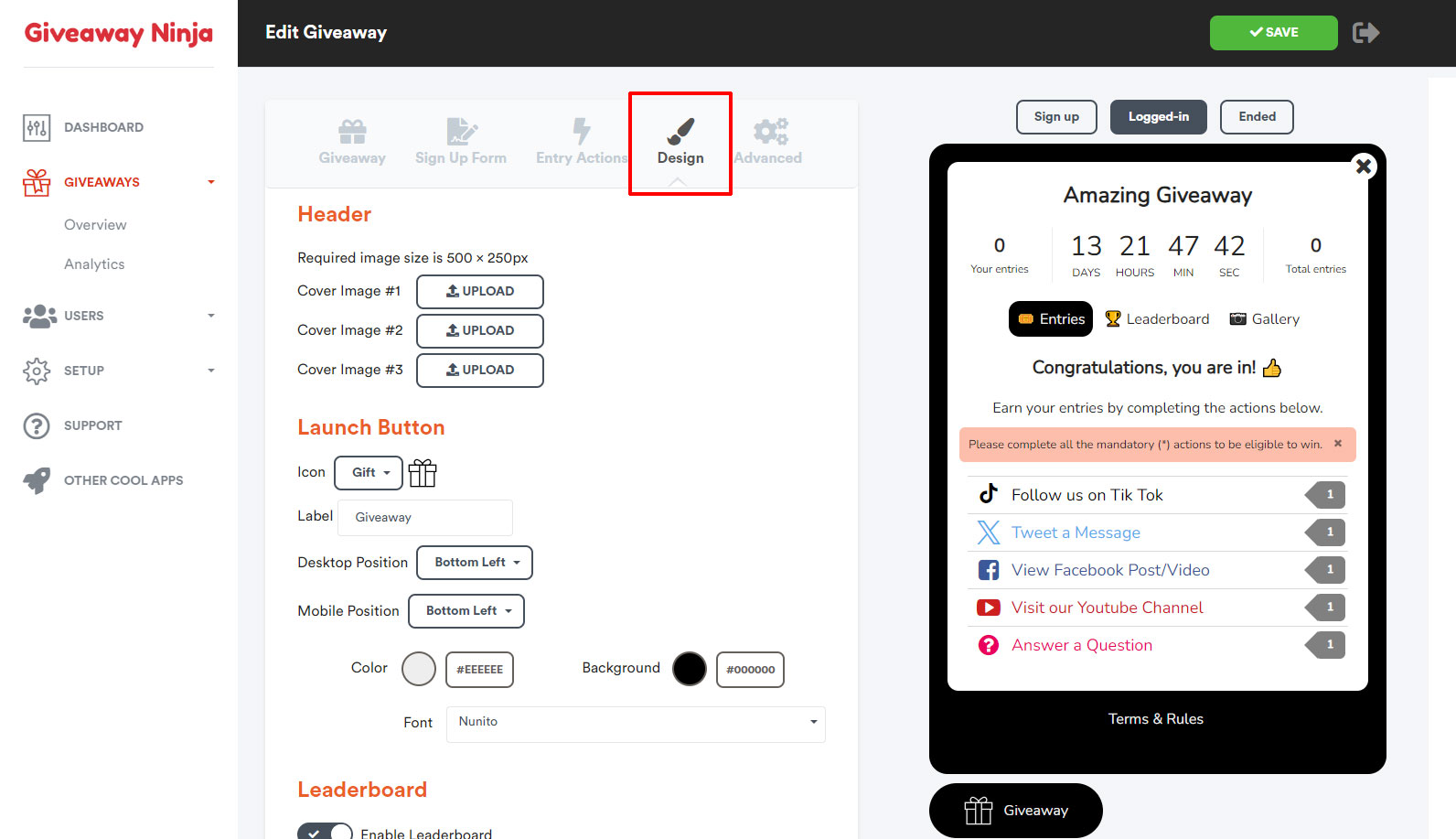 6) Save and Enable the Giveaway.
Almost done!

Click on the green "SAVE" button at the top of the page to save the Giveaway.

The widget should appear on your site according to the start date and timezone.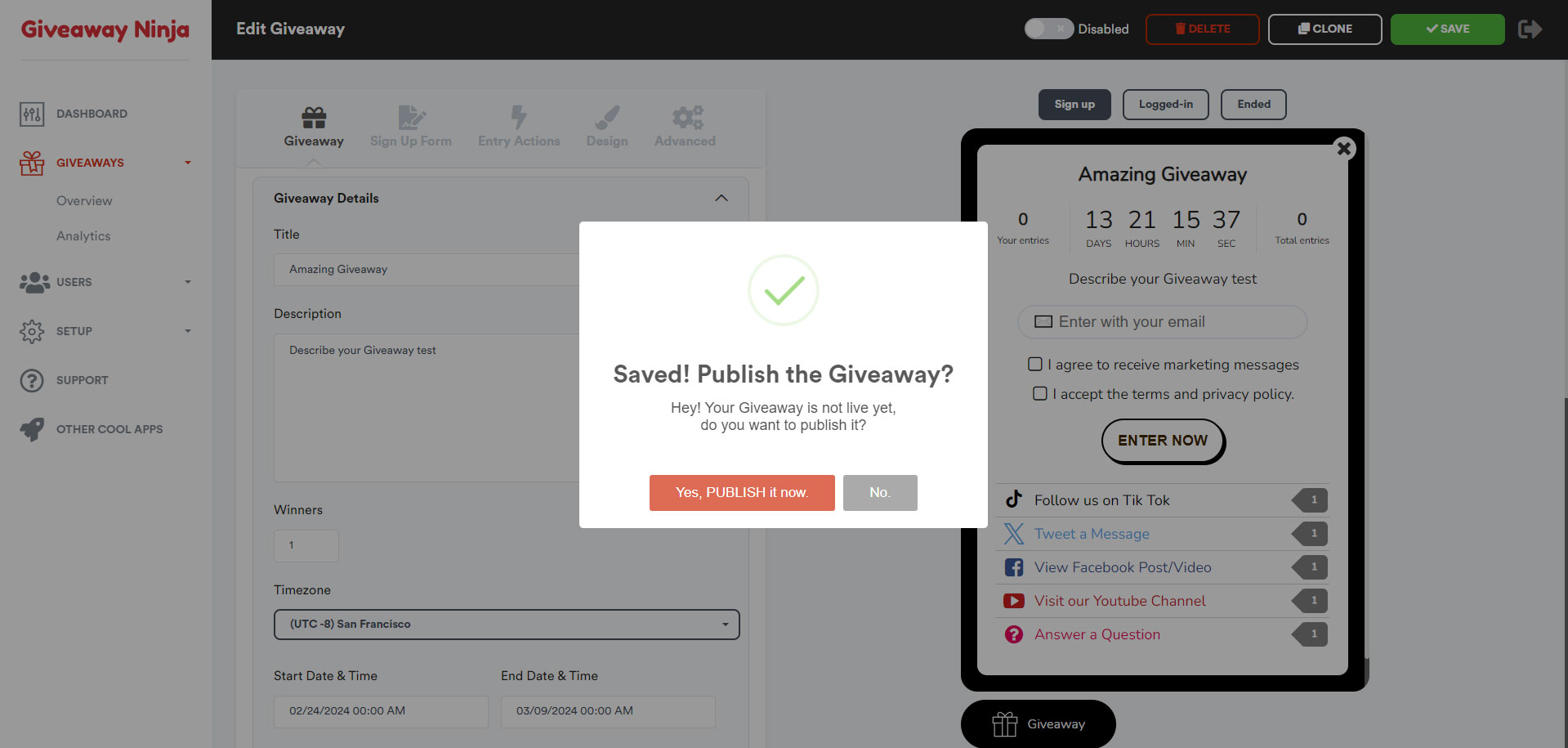 Congratulations! You created your first Giveaway.